Superheroes Management – Newsletter #2
Greetings fans, fams, homies, and other good folks that signed up for our newsletter!
You may want to sit down and hold onto your chair for this one, because the past few months have been a bit outrageous for Superheroes Management clients.
Let's kick things off in 6th gear with pro skateboarder Ryan Decenzo, who saw several long months of sweat and cement-stained blood pay off tremendously with the release of Transworld Skateboarding's most recent film, "Hallelujah." While hundreds of skate movies appear on shelves and fiberoptic cables annually, few would argue that Transworld's aren't among the most significant releases in history. So what did the senior of the two flying Decenzo brothers do for his segment? Answer: Pretty much everything necessary to wrap a solid 4-minute seggy, and score the 2nd to closing part (Torey Pudwill closed it). As if that weren't enough, Decenzo landed the cover (!!!) of Transworld's August print mag, as seen below (courtesy of Nixonnow.com).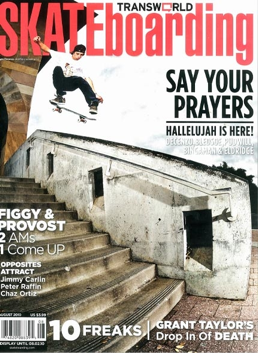 Great job, Decenzzzz! You almost made us forget to include your article in the Boston Globeduring the Dew Tour stop. Hope your 2010 Dew Tour and OC Maloof Money Cup are equally as amazing as the past couple months have been.
BMX charger Drew Bezanson, 21, has also been going bezerk in the early part of his prime season. To begin, he crushed the Simpel Session in Estonia. Then he proceeded to wreak havoc at the Toronto BMX Jam. Completing the early season trifecta, Drew went down to theJoMoPro in Missouri and headed home with his 3rd consecutive Numero Uno in international competitions. Sooo he's just a contest guy? Not so fast. In the midst of all of that, Drew got out on the road with his people over at DK Bikes, and dropped an absolutely ludicrous pair of online video edits for both Fox Head and The Shadow Conspiracy.
Then fulfilling part of his substantial humanitarian coffer, Drew helped good buddy Josh Perry, who recently recovered from a brain tumor, re-learn how to crush an indoor park on his BMX (love the video credit on this one: ahem, Ryan Guettler).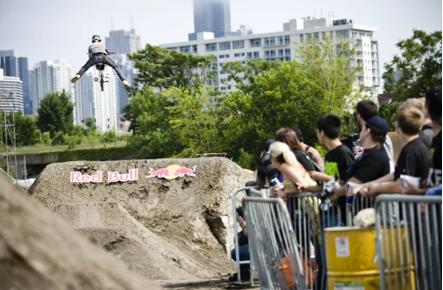 PHOTO: Drew Bezanson at Red Bull Stomping Ground in Chicago where he got 8th…what do you want, the guy rides dirt about once a year!) – courtesy Union BMX.
Our final summer-sports athlete born with a cape and the ability to fly, freeride mountain-bike charger Brandon Semenuk dropped a banger part in Ant Hill Films' "Follow Me" on over-stimulated video screens around the globe. Semenuk, who is best known for bringing a highly-progressive technical style to everything from backyard park jumps to the vast hoodoos of Rampage (defending Champion), seems to be in a league with just a handful of peers right now. Such was the case at the season-opening "26 Tricks" in Leogang, Austria, where Brandon took home 2nd place to Cam McCaul, by the smallest possible margin (one point!). Congrats to Cam on that one. He's good people, too.
Be on the lookout for Brandon wherever pro contests are held this year, including Red Bull Rampage and Kokanee Crankworx.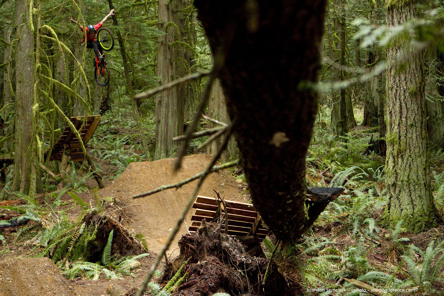 PHOTO: Brandon Semenuk going OFF again (Sterling Lorence)
With summer in the air, some would imagine that the winter sports crew has their boards and skis in the garage collecting dust, and are off surfing in Tavarua, right? Well, that would be actually be wrong….so so wrong.
On June 26th, Sebestian Toutant, aka "Seb Toots" fired up his 2010-2011 season with a massive bang in Whistler, taking home the inaugural 5-Star TTR "Billabong Ante Up" pro -invitational. Ripping alongside some of the biggest names in the game today, Seb found the juice to go just a little bigger and more technical than the rest, going so far as to stomp a historic CAB 12 DOUBLE-CORK. That trick, along with a stack of other jaw-droppers, helped him edge out the competition and take home $20,000 big ones.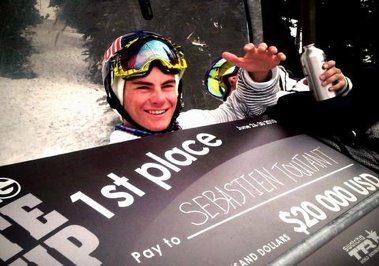 Big smiles and um, 20 Grand (photo – Authier)
The Mikey Rencz stone gathered no moss either. Just when it seems time for paintball wars, and "Swedish" good times filled with nothing but hearty "LOVE IT(s)" on the beaches and lakes, Mikey went to work on a major commercial shoot set-up in conjunction with his sponsor of more than 10 years, Burton Snowboards. While the details of the shoot need to remain quiet (really, we signed NDA's!), let's just say that said production shoot took place in an epic Whistler location with sexy helicopters whirring around all over the place and involved more HD cameras than this year's World Cup (ok, hyperbole). Stay tuned for more details on when this broadcast advert will reach your own 50" 1080p flatscreen. And if you're not the patient type and just need a nice heavy shot of Renczy in your world right now, go right ahead and check out one of the most heavily downloaded snowboard film co's of the past couple years, 8 Mile Life, and their 2010 offering, "Moose with Hat" teaser (not yet rated, but certain to be north of PG-13). That film, along with The People Crew's "Cheers", constitute the wrap of another big year from the future king of Whistler with Canmore roots.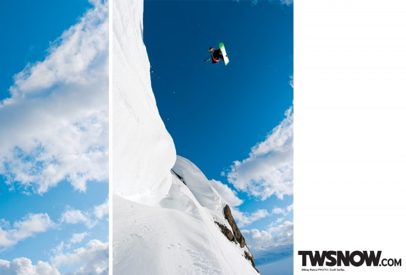 As many of you know, The Captain Devun Walsh capped off his year of filming with his DCand Transworld cohorts by joining the ranks of billions of fathers around the world. Devun and wife, Julia, named their adorable little girl, "Emilia Grace Walsh." Per Dev, this new little joy in his life means a couple things: 1) more joy than he's ever known before 2) less golf than the scratch golfer has seen in a bunch of "off-seasons."
Beyond watching his angel grow up lovingly, Dev has some other things to look forward to in the short-term. First, he's off to New Hampshire to rip rally cars per the personal invite of the O.G. of DC, Ken Block himself along with Jeremy McGrath, Josh Kalis, Torah Bright, and notable other action-sports megastars. And heading into next year, this super sweetSkullcandy ad that we're going to see across the board in awesome snowboard print rags. Yeah, Dev!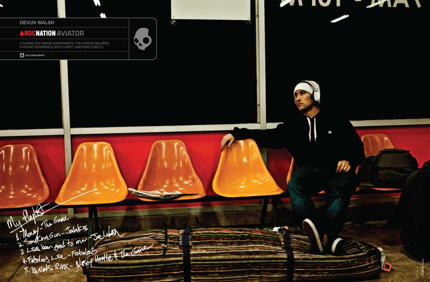 Now for our ski-only fans (really?) who have politely waited through the rest of the 'happenins', as Pettit likes to say, of our varied client sports roster, thanks for your patience.
Sean Pettit closed out what many experts are predicting could be another Powder award-winning year by throwing down more hammers than a Wilt Chamberlain season in his prime. Case-in-point, just as Steve Winter was preparing to put the cherry on top of the Matchstick Productions' sundae, Sean elected to head out to some deep and fresh not-so-light and white in Montana in mid-May to unveil an awe-inspiring SWITCH DOUBLE-CORK in pow (time for another – whaaaaaaaaaaat). That trick capped off a season that saw the still (gulp) 17-year old Pemberton, BC resident victorious at the mother of all backcountry comps, RB Cold Rush, and the Orage Masters. Sean even headed to Mammoth to throw a little park shoot on the stove with a stack of other world-class park jumpers including Simon Dumont and one Bobby Brown. The shoot was called, "Off the Planet" and its participants have told us that it was just that!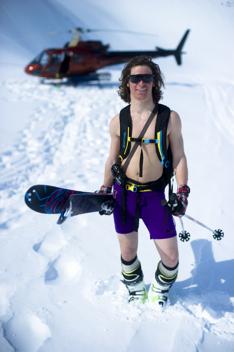 PHOTO: Sean Pettit feeling comfy in his Mons Royale first-layer bottoms (Blake Jorgensen)
Speaking of off the planet, following his season of sheer ski Big Air and Slopestyle domination, overall AFP champion Bobby Brown shot back into orbit in May following a crash during a Smith Optics project shoot in Sun Valley. And miraculously, he came back with even more strength, pop, ability than he left with. Upon his return, Bobby headed up to AK to session a 103-foot park jump build by our friends at MSP with his friend and teammate Russell Henshaw. And while there, Bobby landed a first-time ever recorded in the whole darn history of mankind, TRIPLE FLATSPIN 1200! We aren't allowed to show you photos of said jump, but suffice it to say that they are redonkulous.
It could be that the fine folks at ESPN have also been paying some attention as well, as Bobby was recently awarded for his breakout-the-champagne season by receiving a nomination for the Male Action Sports Athlete of the Year ESPY Award alongside the likes of Shaun White (the incredible red-headed snowboarder guy), Mick Fanning (really good Australian surfer), Ryan Dungey (braaaaaap!), and um…. So if you want to stop reading right now, head over there and VOTE, that's totally cool. No, really. Yes, really!
Or if you would prefer, you can start with the gut muscle-enhancing promo spot featuring Saturday Night Live's Seth Myers, and the likenesses of Kobe Bryant, Landon Donavon, Drew Brees, and….wait for it…Bobby Brown. Yessss! You can see that here!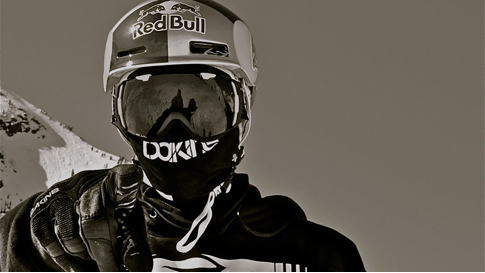 PHOTO: Bobby Brown wants that award (R.Henshaw)
OK, that's a wrap. Thanks for spending 10 minutes of your (work – you know it!) day with us. And since we know that you want to see all this action as badly as we do, please keep your bookmark on the Superheroes Management blog for all the latest action.
Thanks for reading, and as usual, your input is always welcome here at the Hall of Justice, provided that its always positive (Jokes!).